As young people, we're taught that hard work brings success and of the importance of education. There are so many of us around, scribbling words and pictures that the world has yet to see existence of and so much of it is left overlooked or forgotten. It's a daily struggle among the lives of artists, and those who commit themselves to blowing life into our vibrant world. We see so much of it every day; writers, musicians, and those with unselfish passion for improving the world around us can just barely float on the surface of stability. There remains a lot unsaid about why these branches of our culture seem to get the shaft, but too much of its causes remain out of our control.
Louder than a Bomb [3] is the new documentary by Jon Siskel and Greg Jacobs that follows four Chicago high school poetry teams as they prepare and compete in a city-wide slam of the same name. It is centered around four talented subjects hailing from vastly different parts of the Chicago area and the role that poetry plays in their lives. They practice expression through performance poetry, both individually and in groups, where they must rely solely on their voice, emotion and words they convey. Months prior to filming, the directors observed many competitors before choosing who to focus on. One of these turned out to be Nate Marshall, who visited Jeffersontown High School last week to work with their writing students.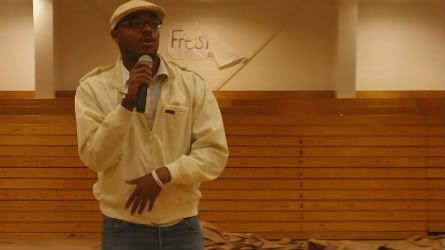 Nate Marshall performing a poem for students
It was out on a whim that art teacher Scot Entrican contacted Greg Jacobs asking to show the film to their students. He read a review by Roger Ebert when it had debuted at the Chicago Film Festival and saw this as an opportunity to further integrate the arts into other departments at the school. With the support of principal Mr. Pollio, they were able to purchase a screener of the film and a plane ticket for Nate to arrive two weeks following the premiere. J-town was the first Kentucky venue to receive access to film; however, it's expected to be picked up by the Baxter, as it has already been claimed on the Oprah Winfrey Network. Starting on May 2nd the school began screenings of Louder than a Bomb in their newly renovated auditorium. Over the course of a week, it was arranged so every student saw the film while the English department followed it up with a lesson in Poetry. It then debuted in New York on May 18th and is currently circulating among select theaters around the nation.
Mr. Entrican said he noticed an immediate response from the students after seeing the film. "When they walked out they were really excited about it, and I know a lot of kids that immediately came back to classes, such as mine, and started writing their own poems because they wanted to work with Nate." I asked if he thought the film changed attitudes within their students. "I really think it did. It did everything I wanted it to: shined a light on small films and documentaries- that they're not these things you just watch in science class, and also really shined a light on poetry and what it can be, because we all have this 'idea' of what poetry is. The movie kind of breaks that down a bit. It made a big difference in the school and our attitudes towards what we can do in the building. The kids were awesome; I think they got so much out of it and it's encouraging that we can do more things like this."
---
Art is literally just a state of mind; I live my life in its presence because that's my high. It provides a consistent buzz where I am more vulnerable to absorb different aspects of everything I encounter. That of course is what Jim Jarmusch meant when he said "Steal from anywhere that resonates with inspiration or fuels your imagination." Part of the bigger picture is being able to share your creations with other people, to be moved by them and influenced. Those who took part in Louder than a Bomb or have seen the film undoubtedly witnessed the powerfully positive effects that art has in young people's lives; this is the kind of experience that changes the attitudes of kids in school. During my years at J-town, a lot of my personal growth came from working in art class as it allowed me to put myself out there in a way that I couldn't do alone. I could comfortably extend my soul into my work and leave it exposed among the student body to be judged.
Sometimes it's difficult to grasp individualism against the pressure of peers or academic requirements; there leaves hardly any opportunities to pursue the endeavors we may want because a public school doesn't offer them. Rather than concentrating on the weaker parts of the educational branch and improving them, their support continues to drop consistently. It comes down to the fact that everyone suffers from budgets cuts, but there are clearly ones who struggle significantly more. This harsh fact doesn't seem to phase the spirit of J-town. When I asked journalism students if the movie changed their perspective on writing, I felt a sense of enlightenment among their responses. "I'm not a very good poetry writer, so [the film] helped me realize that with poetry, you can make it your own," senior Chloe Skaggs told me. English teacher and head of The Imprint, Beth Vandermeer, explained that not many students had been exposed to that element of performance poetry. She was not alone in her hopes that the film would aid students in realizing their past experiences, their culture and where it comes from ultimately shapes who they are, and that they can use those to form powerful pieces of writing. "When I saw the movie it made me want to write more," said Mackenzie Sheperd, a junior. "I liked listening to the different poets [as they] made me want to do my own poetry."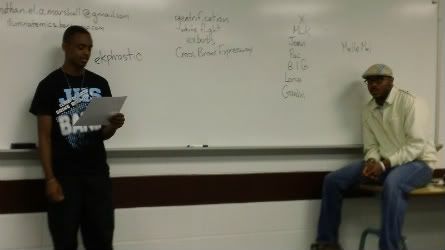 Marcus Pryor recites to his peers
Upon Nate's arrival to Jeffersontown high school, he was greeted by students eager to ask him questions about the film and on writing; some even stuck around to take pictures and chat with him like a small-time celebrity. During lunch hours he performed poems for students in the gymnasium and conducted writing workshops on class time. I sat in on a workshop about ekphrastic poetry—writing that comments on another art form—where the students constructed their own responses to pieces of art. He used Grandmaster Flash's "The Message" [4] to portray a reaction to violence on the streets; later, the students wrote their own ekphrastic poems about an influential piece of art in their lives.
---
"I think in doing this kind of work the students feel more empowered to just express themselves and not worry about if they're saying is what I, or the teacher, or whomever thinks they should be saying, and really just finding their own voice," Nate told me after the workshop. "And I think that's vitally important—to be not only a good student, but be an actively engaged citizen in the world."
Felicia Presley shares her ekphrastic poem
Overall he admits to a good experience with J-town. "I really like the students; they're bright and really willing to listen and learn. There were some good writers and good writing that came out."
Not many graduates leave high school remembering the endless facts and formulas that helped them to pass every standardized test thrown their way. However, they do take with them the valuable experience of doing so: working hard and succeeding. From those experiences we shape our future, and when we have a grasp on something we're passionate about, the potential is infinite. Students need to start believing that.
Photos: Lara Kinne