We have previously discussed [3] the recently opened Against the Grain Brewery and Smokehouse [4] and their fine philosophy towards beer. Desperate to check it out for myself, and realizing that I have as of yet heard nothing about the food situation, I made my way there yesterday for lunch with a friend.
Before I get into it, I have to give serious praise to the service. We sat at the bar, and the bartender (whose name I unfortunately didn't catch) was friendly, attentive, incredibly informative and very knowledgeable about any questions we had (and was willing to take the time to look up any answers she didn't know right off).
Out of fear of redundancy, I won't discuss the day's beer options in-depth, but I would be remiss if I did not mention my pick: an amber ale called Morning Wood. I've had many an amber ale, and it is a beer style I very much enjoy. What set this one apart, though, is that it is brewed with a small amount of coffee. Beer connoisseurs are familiar with coffee being brewed in stouts and porters, but I have never before tasted it in an amber ale. The bitterness of the coffee very nicely balanced the maltiness, forming a truly beautiful union.
The Morning Wood is a bonus beer; Against the Grain has six rotating beers in specific categories, but they sometimes offer extra choices. (My friend ordered a flight of the six categoried beers for sampling, and I didn't find a thing to complain about in regards to any of them.)
Appetizers are all under $10 and include such normal bar fare as nachos and onion rings, as well as things like hummus and BBQ vegan wings. I had to try the beer cheese, made in-house with smoked gouda and their Black & Mild Smoked Porter. We received a decent-sized cup of the cheese with a pile of crisp, salty kettle chips. The cheese was warm and creamy and delicious, although I couldn't really detect much of a smoke flavor. Incidentally, the cheese paired quite nicely with my Morning Wood.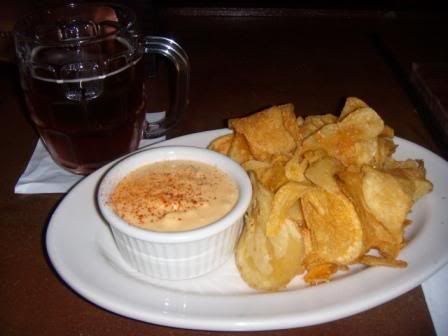 ---
Sandwiches are in the $10 range. I decided to try the "House-Smoked Memphis-Style Pulled Pork Sandwich," which came with a side of smoked coleslaw. The sandwich came served open, showcasing a decent-sized pile of pork topped with pickled onions, all on a toasted brioche bun. The barbecue sauce sat on the side so the diner can add as much or little as desired. (I recommend requesting a second ramekin of sauce; one wasn't nearly enough for the amount of meat there.) The sauce, which I tasted before adding to the sandwich, was quite incredible. It starts with a sweet smokiness, but then hits you with a strong spicy undercurrent which lingers after you swallow. I would be remiss if I didn't tell you that this is one of the best barbecue sauces I have ever tasted.
It's a good thing, too, since the pork on the sandwich didn't really have too much going for it. While it wasn't at all bad, it also wasn't particularly moist or flavorful. It serves perfectly as a vehicle for the sauce, but perhaps marinating it for a while before cooking wouldn't be a bad thing.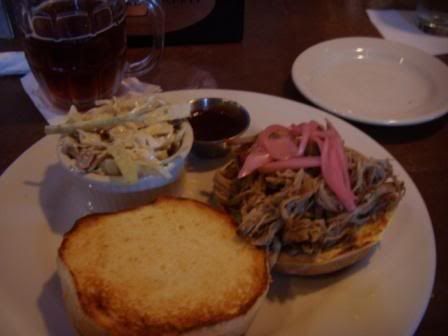 About the coleslaw: this popular side dish is something I've always been merely ok with – don't love it, don't hate it. I can take it or leave it. However, I've never had smoked coleslaw, or ever even considered the possibility, and friends, this is the tastiest coleslaw I have ever eaten. The cabbage was firm and crisp and lightly tossed in the dressing (whereas many coleslaws are drowned in it), and all of this was permeated by the wonderful smokiness. I found it hard to stop raving about it.
As well as sandwiches, Against the Grain offers entrees such as beer can chicken and grilled trout. My friend decided to splurge on the $17 duck breast with root vegetables. It came in a pleasing plating arrangement, small medallions of duck surrounding an autumnal mound of potatoes, squash, and carrot, all of which was drizzled with a pickled garlic sauce. The duck, cooked to a medium-rare, was moist and tender and full of flavor, while the vegetables were soft and buttery. My friend declared that the Black & Mild Smoked Porter makes a perfect pairing.
All-in-all, Against the Grain provided for a very tasty and relaxing afternoon. Great drinks, good food, and friendly service all contribute to a very pleasant atmosphere.
Logo courtesy of Against the Grain Facebook page [5]
Photos: Allan Day