I love bourbon. I work as a bartender at a prominent downtown hotel, and I consider it my sacred duty to educate those from out of state about our beautiful native whiskey. It is something about which I am passionate and knowledgeable, and so I was very pleased to be able to attend the Jim Beam Bourbon Dinner last night at Equus & Jack's Lounge [3].
(In the interest of disclosure, I must inform my readers that my meal was complimentary. However, when reviewing food, I don't let this cloud my judgment, as I strive to report objectively no matter what the circumstances.)
The dinner was a pleasant group affair; my wife and I were seated at a six-top table with two other couples, and Joy Perrine, "Bad Girl of Bourbon" and mixologist for Jack's Lounge came out to address the room at large. She spoke a bit about the food and cocktails we would be enjoying before turning over to Fred Noe, master distiller for Jim Beam.
Mr. Noe introduced to us a very intriguing bourbon called Devil's Cut. While bourbon ages in oak barrels, it seeps into the wood. When the bourbon is removed, about two gallons of liquor remain in the sides of the barrel. Devil's Cut is the result of filling the "empty" barrels with thirty five gallons of water, shaking for one hour, filtering, and then reducing to 90 proof.
During the aging process, a certain amount of bourbon will evaporate. This is traditionally known as the "angel's share." Thus, the leftover bourbon extracted from the wood is playfully called the "Devil's Cut."
We each received a sample of the bourbon. Naturally, the oak flavor came through intensely. The bourbon was thin and smooth on the palate, and it tasted lighter and brighter than most bourbons. It was quite enjoyable.
Fred Noe then introduced Bernie Lubbers, Jim Beam Whiskey Professor, who talked a little bit about what makes bourbon bourbon as opposed to just another whiskey: bourbon must be aged in a new charred oak barrel; the grains used must consist of at least 51% corn; nothing can be added to the whiskey besides water (as opposed to other whiskeys, which can include artificial coloring or other additives). Contrary to common belief, bourbon does not have to be made in Kentucky to be called bourbon. It can be made anywhere, but it has to stick to the legal requirements of "bourbon."
Then came the food. For the amuse course, we were served a deviled quail egg, along with a taste of Jim Beam (white label, seven year). The tiny half-egg had been filled with its yolk whipped with mascarpone, white wine, and apple cider vinegar. The bourbon was smooth and quite woody; the oak notes could actually be felt in the nose after drinking. It made for an interesting pairing: the creamy texture of the egg coated the palate, which served to mellow out the bourbon and dull the fire a bit.
---
The first course consisted of shrimp and spinach dumpling with smoked tomato seafood nage, paired with a Dark & Bloody Mary. The Bloody Mary, I was pleased to learn, did not come from a bottle; it consisted of Campbell's tomato juice, smoked paprika, lemon juice, Worcestershire sauce, and Jim Beam (dark label). It wasn't quite as spicy as I normally prefer my Bloody Marys, but any more spice would probably have disguised the bourbon. Instead, the slight sweetness and wood notes of the bourbon blended nicely with the tomato and lemon.
The dumplings were delicious - crisp on the outside and creamy on the inside, garnished with small greens and sitting in a pool of red sauce. They helped to quite pleasantly accentuate the lemon and acidity of the Bloody Mary.
For the salad course, we consumed a field mix, topped with cherries, pumpkin seeds, and a thin slice of manchego cheese, all of which was tossed in an apple cider vinaigrette. The application of the vinaigrette was minimal, which allowed the salad to mostly speak for itself. The addition of pumpkin seeds was a particularly brilliant touch, as the nutty flavor and crunch factor formed a nice contrast from the rest of the salad.
The accompanying cocktail was called the Cherry Bounce. Ms. Perrine introduced it as a classic cocktail, but this was her own personal interpretation of it. It consisted of Red Stag white label bourbon, Kentucky Orchard cherry wine, and cherry bitters. While tasty, this cocktail was just a tad overly sweet for my tastes; I am not generally a fan of confectionary-sweet beverages.
Main course was prime beef filet, served atop a bed of apple and almond risotto. The risotto was wonderfully creamy and slightly sweet, and the beef had been cooked to a perfect medium-rare, so tender that it, to borrow a cliché, "practically melted in your mouth." This came paired with a cocktail called the Jersey Devil's Cut, a take on the Cosmopolitan using, naturally, bourbon instead of vodka. Thus, it included cranberry juice, lime, brown sugar, and triple sec. It was quite citrusy, which balanced nicely against the natural sweetness of the bourbon. (Despite being a heterosexual male, I really enjoy a good Cosmopolitan, and since I much prefer bourbon to vodka, this was quite a treat for me.)
Dessert was a fancy take on a childhood classic: pumpkin marshmallow s'mores with chocolate and caramel. Much food had been consumed by that point, so my bulging belly wasn't even able to finish it, but it was absolutely divine. One of our tablemates was heard to exclaim, "Good golly gussy!" in response. The s'mores came with pumpkin spice eggnog, a holiday favorite which was thick and smooth and delicious.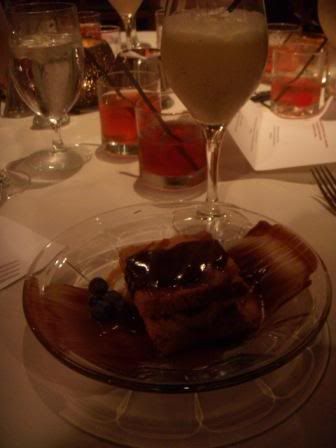 The dinner was fantastic, and I can't wait to return sometime soon for a more casual meal, or to relax in Jack's Lounge with a glass of bourbon. We left feeling stuffed, both with food and with knowledge about bourbon.
Equus & Jack's Lounge is located at 122 Sears Avenue.
Heading photo courtesy of Equus & Jack's Lounge Facebook Page. [4]
All other photos: Erin Day