We have previously discussed the recently opened Against the Grain Brewery and Smokehouse and their fine philosophy towards beer. Desperate to check it out for myself, and realizing that I have as of yet heard nothing about the food situation, I made my way there yesterday for lunch with a friend.
Before I get into it, I have to give serious praise to the service. We sat at the bar, and the bartender (whose name I unfortunately didn't catch) was friendly, attentive, incredibly informative and very knowledgeable about any questions we had (and was willing to take the time to look up any answers she didn't know right off).
Out of fear of redundancy, I won't discuss the day's beer options in-depth, but I would be remiss if I did not mention my pick: an amber ale called Morning Wood. I've had many an amber ale, and it is a beer style I very much enjoy. What set this one apart, though, is that it is brewed with a small amount of coffee. Beer connoisseurs are familiar with coffee being brewed in stouts and porters, but I have never before tasted it in an amber ale. The bitterness of the coffee very nicely balanced the maltiness, forming a truly beautiful union.
The Morning Wood is a bonus beer; Against the Grain has six rotating beers in specific categories, but they sometimes offer extra choices. (My friend ordered a flight of the six categoried beers for sampling, and I didn't find a thing to complain about in regards to any of them.)
Appetizers are all under $10 and include such normal bar fare as nachos and onion rings, as well as things like hummus and BBQ vegan wings. I had to try the beer cheese, made in-house with smoked gouda and their Black & Mild Smoked Porter. We received a decent-sized cup of the cheese with a pile of crisp, salty kettle chips. The cheese was warm and creamy and delicious, although I couldn't really detect much of a smoke flavor. Incidentally, the cheese paired quite nicely with my Morning Wood.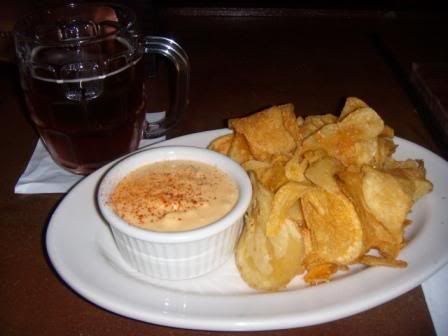 Pages