The rave scene in Louisville is both strange and exciting, but putting on these kinds of events takes more than just funky drugs and music. April Utley, an independent fashion designer, has been crafting her own line of rave wear for years under the name Bad Apple Boutique. If you've seen the Disco Aliens or solo DJ Elektrolyte perform around town, you've probably already seen her onstage dancing, sporting one of her own designs, no less.
April founded Bad Apple Boutique after graduating from high school in 2006.
"I knew there weren't any fashion schools worth going to in the area I was living in, so I decided to do everything on my own; I didn't even have one person helping me. I've been designing clothes ever since I can remember, so why not make a career out of it?"
Since then, her creations have been featured five different fashions shows across Evansville dubbed The Gathering, a Scattered Décor show in Louisville, and several electronic dance events such as Underground Sound, Forecastle, Halfway to Forecastle and Psychotronic.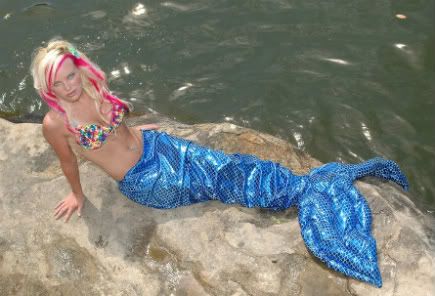 Although April's skills aren't just bounded to the neon glow of rave wear, her method of improvising designs as they go tends to make them more suitable that way.
"My work is always very bright and colorful," she said. "Without color I get bored."
In addition to being very color conscious, April also keeps the female wearer in mind.
"I like to bring out the curves in bodies and things to make ladies feel sexy!"
And these efforts haven't gone unnoticed. April's clothes have become the spectacle of these electronic music events. After all, if it weren't for her designs, who else would be able to make their dancers look so good?
Like any independent business, there is always room for growth. In terms of the future of Bad Apple Boutique, April hopes to take her business further- whether it be in Miami or L.A.- and open her own clothing, art and record shop. She is currently running the business from her home studio and is open to all custom projects. Check out her portfolio and more on the Bad Apple Boutique Facebook page. You can also find readily made items for purchase on Etsy. For custom project inquiries, contact April via email: april_utley@hotmail.com.
larakinne@spanishforeggs.com
Photos: Facebook/Psychotronic photo album, Ozru Photographics