Bears, Brunch, Battlestar Galactica
Impending winter storms basically turn me into a bear readying for hibernation. The gray, sunless sky gives no hint to the actual time. 5a.m. and 5p.m. look and feel relatively similar—one may appear a shade or two darker; though I am unsure which. This uncertainty leads to eating and sleeping that is completely devoid of temporal restrictions, thus making brunch-food the ideal food for days where you are completely snowed in.
Because, really, you can manage to justify any food as brunch food—so why not cook up some of these Kentucky-themed eats to prepare for a long winter's nap (and potentially a Netflix binge of Battlestar Galactica)?
(I couldn't resist making an accompanying meme.)
Ingredients
8 oz package refrigerated crescent rolls
1 lb. package smoked turkey lunch meat
8 slices cooked bacon
8 slices Swiss cheese
3 Roma tomatoes, sliced thin
4 eggs, beaten
Instructions
Unroll the crescent dough and separate into 2 squares.
Place one square in bottom of 8" pan that is greased or lined with parchment paper.
Press dough to fit pan.
Layer with half the turkey, bacon, cheese and tomatoes.
Pour half the eggs over the top.
Repeat the layers.
Top with remaining dough square.
Pour remaining eggs over top.
Bake at 350 for 20 minutes, covered with foil. Remove foil and bake another 20-25 minutes.
Let sit at room temp for 15-20 minutes before serving.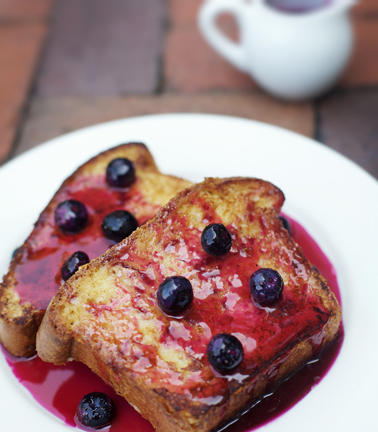 Ingredients
2 cups whole milk
1/3 cup Kentucky bourbon5 whole eggs
1/2 cup sugar
2 tsp. ground cinnamon
12 slices egg bread, like brioche
Instructions
Mix the milk, eggs, sugar, bourbon and cinnamon together in a bowl.
Melt a pat of butter on a hot griddle.
Dip the bread in the batter. Place the battered bread on the griddle and cook until the first side begins to turn golden brown.
Flip the French toast and continue to cook until the other side is golden brown, too.
Serve with butter, berries and syrup.
Chef Edward Lee's Waffles & Eggs
Ingredients
4 tsp peanut or corn oil
2 lbs raw chicken sausage (seasoned simply), removed from casing and crumbled (about 4 cups)
6 oz thick slab bacon, finely diced
1 yellow onion, diced
4 garlic cloves, minced
½ cup all-purpose flour
3 cups milk
1 cup plus 4 tbsp buttermilk
4 4-oz cans chopped green chiles
3 tsp coarse salt
2 tsp black pepper
1 tsp paprika
16 eggs
16 home-style waffles (even frozen Eggos are fine)
8 tbsp unsalted butter, melted
Garnish: 1 small bag pork rinds, crushed; 1 bunch scallions, green part only, roughly chopped
Instructions
1. Preheat oven to 375 degrees.
2.Find two deep skillets that are about 12 inches wide. Make sure neither has a plastic handle that will melt in the oven. (If it does, throw it away and buy yourself a better skillet.)
3. Heat 2 tsp oil in each skillet until very hot. In each, add half the chicken sausage and half the bacon and cook over medium heat until browned, 5 to 7 minutes. Add half the diced onions and 2 minced garlic cloves to each skillet and cook until aromatics begin to brown, about 3 to 5 minutes. Lower the heat and, working one skillet at a time, sprinkle in ¼ cup flour, stirring constantly, to make a quick roux. Keep stirring until sausage is well coated and flour has absorbed the pan fat, 2 to 3 minutes. (Watch it with an eagle eye, as it will burn quickly. As soon as the mixture gets a light amber color, immediately take it off the heat and keep stirring because the hot pan will continue to cook the roux.)
4.Return the pans to medium-low heat. To each skillet, add 1 ½ cups milk and ½ cup buttermilk, 2 4-oz cans chopped green chiles, and half the salt, pepper, and paprika. Stir constantly until gravy flows from your mixing spoon in a steady stream, not clumps, about 8 minutes. (The gravy will look sort of shiny when the flour is cooked out.)
5. Turn off the heat and crack 8 eggs over the surface of the gravy in each skillet. (Crack eggs close to surface to keep yolks intact.) Then drizzle 2 of the remaining 4 tbsp buttermilk evenly over the surface of the eggs in each. Transfer both pans to oven.
6. At the same time, arrange 16 home-style waffles on a sheet pan and drizzle the melted butter over the waffles. (Frozen waffles should be defrosted first or they will steam instead of crisping.) Bake in the oven along with the eggs. The eggs will be ready when egg whites turn opaque and yolks are set but still runny inside, about 12 to 18 minutes. (Keep a good watch, as they can quickly overcook. The cooking time for your eggs will vary depending upon your oven.)
7.Waffles should be done at the same time the eggs are ready. Cut waffles across the diagonal to make 4 small triangles out of each. As a last bit of culinary genius, grab the pork rinds in a bag and crush them to make a crumble. Sprinkle this right over the eggs, along with chopped scallions, a little salt, and coarse black pepper just before serving.
8.Put the hot skillets on a towel right in the center of the table with a serving spoon and the waffle points alongside on a plate.
Ingredients
Cake
2 cups granulated sugar
1 cup butter
2 eggs
1 teaspoon baking soda
3 teaspoons baking powder
6 cups all-purpose flour
2 teaspoons vanilla
1/2 cup buttermilk
Filling
16 ounces dried apples
1 cup light brown sugar
1 1/2 teaspoon ground cinnamon
1/2 teaspoon ground cloves
1/2 teaspoon ground allspice
Instructions
Cream the granulated sugar and butter together.
Add eggs one at a time, beating well after each addition.
Measure flour, sift with other baking powder and soda; add to batter, alternating with buttermilk and vanilla.
Divide dough into six or eight parts. Use a well-floured board to roll into rounds, if baking on cookie sheets, or pat into well-greased 9-inch pans.
Bake at 400° until browned.
Cook apples just enough water to cover, until soft; mash thoroughly.
Stir in sugar and spices. Cool before spreading between layers.
And once you manage to pull yourself out of your snow-day food coma, and then shovel yourself out of the house—check out these restaurants in Louisville that have some of the best brunch options. But until then, enjoy these recipes!