10.21.11 | Headliners Music Hall
In a fluorescent illusion the Black Angels made a promising return to Headliners last night after skimming by Louisville twice from canceled gigs. For some added backbone, Spindrift and Dead Meadow knocked up the bill to complete the evening's tasty palette and formed a pleasing dynamic of differing veins in psychedelia. The outcome: several crescendos winding down to resolution in the closing set of the night.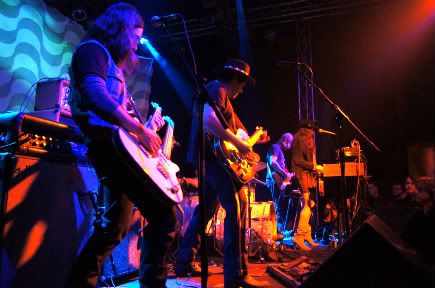 Spindrift took the stage in classy western apparel, beginning the show in a twisted settlement placed between isolated desert and deep space. Henry Evans took duel duties on his double neck combination of bass and guitar supported by an additional rhythm and lead. As riffs galloped steadily to a chugging rhythm, the set seemed to advance in an escalating war between Indian calls and fast-paced, sludge beats. It took occasional shifts when they broke from this uproar to perform with woodwinds and a sweet autoharp, perhaps to evoke haunting native spirits.
We departed from the west as Dead Meadow's presence geared the show towards a galactic path and the projector lights were finally switched on. Color began to flood the stage as they pounded out Zeppelin inspired jaunts soaked in acidic sludge. It was the purgatorial phase before the Angels arrived to induce every appeal to the senses.
The first sound uttered by singer Alex Maas was a prominent scream as the Black Angels opened their set with "You on the Run." Following this was two songs written about snipers starting with their newest, "The Sniper" from Phosphene Dream and a Passover throwback with "Sniper at the Gates of Heaven" as silhouettes of soldiers and children ran along a grey horizon. Absolute harmony was reached once they hit "Yellow Elevator #2" as colors began to anxiously multiply and line patterns that populated the screen gradually emerged out of focus.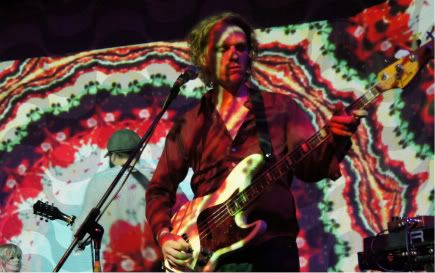 Mysteriously, Alex Maas's eyes were never once revealed from underneath the shadow cast by the hat flap covering nearly half his face. But it was a necessary measure for withstanding the frenzy of kaleidoscopic patterns that viciously shined throughout the venue. The visuals worked in parallels to the music and as the intensity of the show increased, so did the saturation of color and vibrancy. These aspects combined achieved in putting the listener through a trance left guided by the pulsing nature of repetitive riffs and consistent spectral changes; the whole situation had me recall Louis Wain's series of distorted cat drawings. They capped off the set with Phosphene bonus track "Melanie's Melody" and a technicolor "Sunday Afternoon." But it wasn't long before the crowd was enticing enough to bring them back for an encore where they broke into "Deer Ree Shee" (absent of an Indian drone) and a less jangly rendition of "18 Years." Whether it'll take the Black Angels that long to return to Louisville is a notion left in the unknown.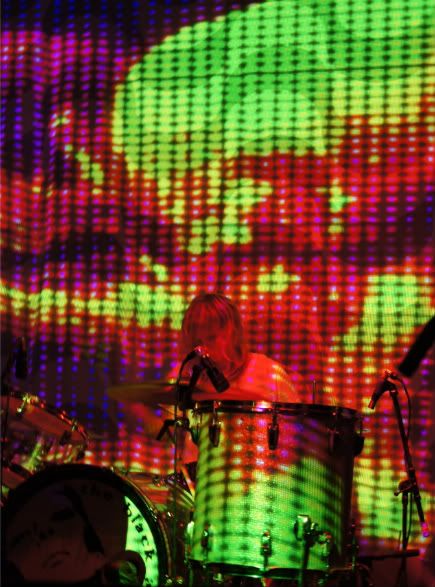 Photos: Lara Kinne
Check out Louisville.com's interview with frontman Alex Maas