I must admit to not having heard much of The Felice Brothers' music prior to this show. Regular listeners to 91.9 WFPK are likely familiar with their new single "Fire at the Pageant," the hypnotic, chaotic folk song about a man risen from the dead. This song pumps me up so much that, despite not having heard anything else, as soon as I heard they would be performing at Zanzabar, I knew I had to go.
Last night's show opened with a performance by Gill Landry, guitarist for Old Crow Medicine Show. Mr. Landry, dressed in black, smiled out at the audience as he crooned country ballads, accompanied by fiddle and drums (I, unfortunately, did not catch the names of those playing with him.) His voice echoed soulfully through the room; it could not fail to move anybody who was listening (note: only about half the audience actually appeared to be listening, judging by the dull roar around me).
After an impressively quick turnaround, Frontier Ruckus took the stage. Hailing from Michigan, they come across as your typical indie folk-rock band – and I don't mean that as a criticism. While heavy on the guitar and banjo, the sound was spiced up by the musical stylings of Zachary Nichols, who deftly alternated between trumpet, melodica, mini-keyboard, and musical saw. This aspect is what defines this band's uniqueness compared to other similar groups. The highlight of the set, for me, was a song they introduced as being "about our favorite insect, which is currently facing seasonal extinction." "Silverfishes" really showcases the David Jones' abilities on the banjo, which juxtapose beautifully with Nichols' trumpet.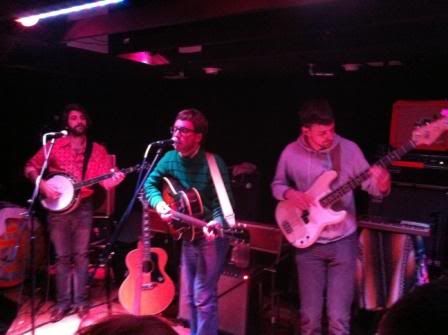 Up next: The Felice Brothers! Touring in support of their new album "Celebration, Florida," they jumped right into it with "Honda Civic." The crowd, which seemed in general much more familiar with the band than I was, jumped and danced and sang along throughout the entire show. I suppose it would have been helpful to know more of their music, for there was one fatal flaw: the sound quality was terrible. Everything had been fine during the opening acts, but for the Felice Brothers the sound was so loud with the bass and drums turned up so much that everything was accompanied by a constant loud buzz. As I remarked to my friends: "I see someone playing a fiddle. I see someone playing a guitar. How come all I hear is bass and drums?" One of my friends confirmed: he had seen them at Headliners and assured me that they are fantastic, if you can hear properly.
The sound problems, however, were not the fault of the band, who did put on a great show (especially when the fiddle, accordion, and keyboards managed to shine through the buzz). The highlight of the set? "Fire at the Pageant." What can I say? It's why I went. This was the second song in the set (a little earlier than I would have liked, but this is just my preference), and I could not help but jump and shout along as they broke into the utterly raucous chorus. It was beautiful. Second place goes to their performance of "Ponzi," in which they depart from their more traditional folk sound to explore electronic influences. The crowd energy was palpable as everybody started jumping and gyrating.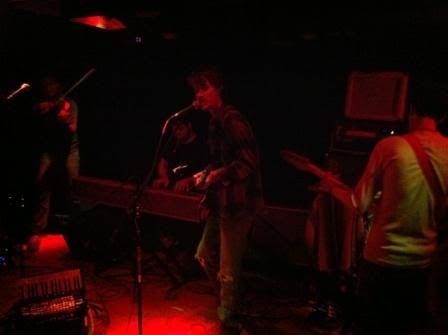 Overall, it was a fantastic show. I had never been to Zanzabar before, and I see the appeal as a concert venue: small and intimate, the sound fills the room and allows the band to play off the energy of the crowd and vice versa, feeding each other to produce a truly transcendent music experience. At least, I imagine that's how it would have been if the sound had been fixed.
Photos: Matt Isaacs