As young people, we're taught that hard work brings success and of the importance of education. There are so many of us around, scribbling words and pictures that the world has yet to see existence of and so much of it is left overlooked or forgotten. It's a daily struggle among the lives of artists, and those who commit themselves to blowing life into our vibrant world. We see so much of it every day; writers, musicians, and those with unselfish passion for improving the world around us can just barely float on the surface of stability. There remains a lot unsaid about why these branches of our culture seem to get the shaft, but too much of its causes remain out of our control.
Louder than a Bomb is the new documentary by Jon Siskel and Greg Jacobs that follows four Chicago high school poetry teams as they prepare and compete in a city-wide slam of the same name. It is centered around four talented subjects hailing from vastly different parts of the Chicago area and the role that poetry plays in their lives. They practice expression through performance poetry, both individually and in groups, where they must rely solely on their voice, emotion and words they convey. Months prior to filming, the directors observed many competitors before choosing who to focus on. One of these turned out to be Nate Marshall, who visited Jeffersontown High School last week to work with their writing students.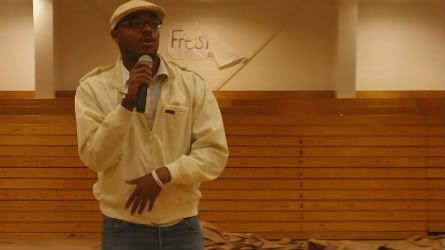 Nate Marshall performing a poem for students
It was out on a whim that art teacher Scot Entrican contacted Greg Jacobs asking to show the film to their students. He read a review by Roger Ebert when it had debuted at the Chicago Film Festival and saw this as an opportunity to further integrate the arts into other departments at the school. With the support of principal Mr. Pollio, they were able to purchase a screener of the film and a plane ticket for Nate to arrive two weeks following the premiere. J-town was the first Kentucky venue to receive access to film; however, it's expected to be picked up by the Baxter, as it has already been claimed on the Oprah Winfrey Network. Starting on May 2nd the school began screenings of Louder than a Bomb in their newly renovated auditorium. Over the course of a week, it was arranged so every student saw the film while the English department followed it up with a lesson in Poetry. It then debuted in New York on May 18th and is currently circulating among select theaters around the nation.
Mr. Entrican said he noticed an immediate response from the students after seeing the film. "When they walked out they were really excited about it, and I know a lot of kids that immediately came back to classes, such as mine, and started writing their own poems because they wanted to work with Nate." I asked if he thought the film changed attitudes within their students. "I really think it did. It did everything I wanted it to: shined a light on small films and documentaries- that they're not these things you just watch in science class, and also really shined a light on poetry and what it can be, because we all have this 'idea' of what poetry is. The movie kind of breaks that down a bit. It made a big difference in the school and our attitudes towards what we can do in the building. The kids were awesome; I think they got so much out of it and it's encouraging that we can do more things like this."
Pages