Art is literally just a state of mind; I live my life in its presence because that's my high. It provides a consistent buzz where I am more vulnerable to absorb different aspects of everything I encounter. That of course is what Jim Jarmusch meant when he said "Steal from anywhere that resonates with inspiration or fuels your imagination." Part of the bigger picture is being able to share your creations with other people, to be moved by them and influenced. Those who took part in Louder than a Bomb or have seen the film undoubtedly witnessed the powerfully positive effects that art has in young people's lives; this is the kind of experience that changes the attitudes of kids in school. During my years at J-town, a lot of my personal growth came from working in art class as it allowed me to put myself out there in a way that I couldn't do alone. I could comfortably extend my soul into my work and leave it exposed among the student body to be judged.
Sometimes it's difficult to grasp individualism against the pressure of peers or academic requirements; there leaves hardly any opportunities to pursue the endeavors we may want because a public school doesn't offer them. Rather than concentrating on the weaker parts of the educational branch and improving them, their support continues to drop consistently. It comes down to the fact that everyone suffers from budgets cuts, but there are clearly ones who struggle significantly more. This harsh fact doesn't seem to phase the spirit of J-town. When I asked journalism students if the movie changed their perspective on writing, I felt a sense of enlightenment among their responses. "I'm not a very good poetry writer, so [the film] helped me realize that with poetry, you can make it your own," senior Chloe Skaggs told me. English teacher and head of The Imprint, Beth Vandermeer, explained that not many students had been exposed to that element of performance poetry. She was not alone in her hopes that the film would aid students in realizing their past experiences, their culture and where it comes from ultimately shapes who they are, and that they can use those to form powerful pieces of writing. "When I saw the movie it made me want to write more," said Mackenzie Sheperd, a junior. "I liked listening to the different poets [as they] made me want to do my own poetry."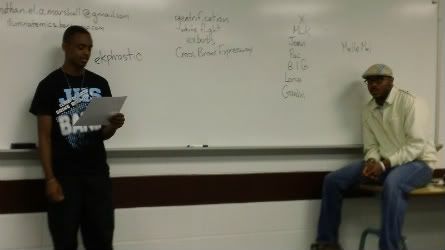 Marcus Pryor recites to his peers
Upon Nate's arrival to Jeffersontown high school, he was greeted by students eager to ask him questions about the film and on writing; some even stuck around to take pictures and chat with him like a small-time celebrity. During lunch hours he performed poems for students in the gymnasium and conducted writing workshops on class time. I sat in on a workshop about ekphrastic poetry—writing that comments on another art form—where the students constructed their own responses to pieces of art. He used Grandmaster Flash's "The Message" to portray a reaction to violence on the streets; later, the students wrote their own ekphrastic poems about an influential piece of art in their lives.
Pages