6.24.12
There was no better place to be in Louisville when Nada Surf and Waters played Headliners on Sunday night.
San Francisco natives Waters opened the evening with a full set from their debut full-length, Out in the Light, and successfully appeased the anxious crowd with sweet melodic timing. They closed with an intimate ballad as the members joined the audience front to sing a capella led by frontman Van Pierszalowsk on acoustic guitar.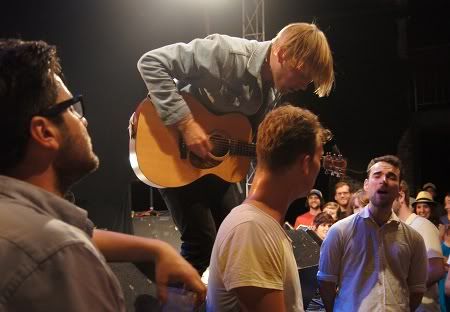 Although normally a trio, Nada Surf brought along Doug Gillard of Guided by Voices (c. 1997) to accompany Matthew Caws on guitar. They launched straight into The Stars Are Indifferent to Astronomy with the opener, "Clear Eye Clouded Mind," following up with the second track, "Waiting for Something." Before an energetic play of "Whose Authority," Caws made it a point to remind everybody to vote. Even in the most serious song crunch, he smiled through nearly the entire set. Nada seemed to have an appreciation for Louisville as they reminisced past shows at Phoenix Hill Tavern and Tooligans, including a reference to Squirrel Bait.
A tribute was given to Bill Fox when they broke into "Electrocution," one of several covers from If I Had a Hi-Fi (and a favorite of drummer Ira Elliot's as revealed in our interview.)
With some proper coaxing, Nada returned on stage for an encore of four songs. Closing with "Blankest Year," a few lucky fans in front were invited on stage to rock out the finale.
larakinne@spanishforeggs.com
Photos: Lara Kinne