For the final course, we were served Beni Di Batasiolo Bosc DLa Rei Moscato, a sweet dessert wine from the village of Serralunga d'Alba in Italy. This wine contained just a touch of carbonation; on the palate it revealed notes of apple and pineapple, and had a very slightly syrupy mouthfeel. This was paired with five-spice pumpkin panocotta, served with small slices of gingerbread and a mandarin orange reduction.
Panocotta is one of my favorite desserts. It is fairly simple in its basic form – milk, cream, and sugar combined with gelatin and then cooled until it sets. It is similar in texture and flavor to custard, although the gelatin makes it a bit firmer.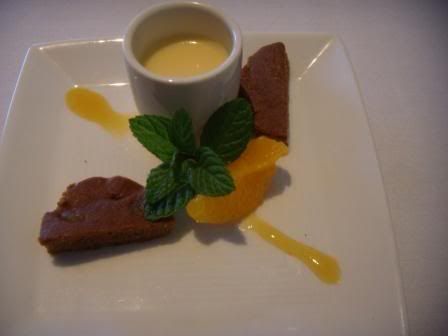 My wife and I agreed that this was our favorite pairing. The ginger and spices really enhanced the citrus flavor of the wine, while the wine in turn emphasized the ginger. It was an example of perfect synergy, as the two elements played off each other beautifully.
Pleasantly full, the bill for two meals, a mimosa, a Bloody Mary, and a coffee came to a mere $83.00, which is a real steal considering the quality and quantity of food and drink consumed. Asiatique plans to continue hosting Bubbles Brunches, with the next one to be probably held around Valentine's Day. I cannot give a higher recommendation for this event. In the meantime, Asiatique serves brunch every Sunday from 10:00 am to 3:00 pm, in addition to being open for dinner nightly.
Asiatique is located at 1767 Bardstown Road.
Photos: Erin and Allan Day
Pages