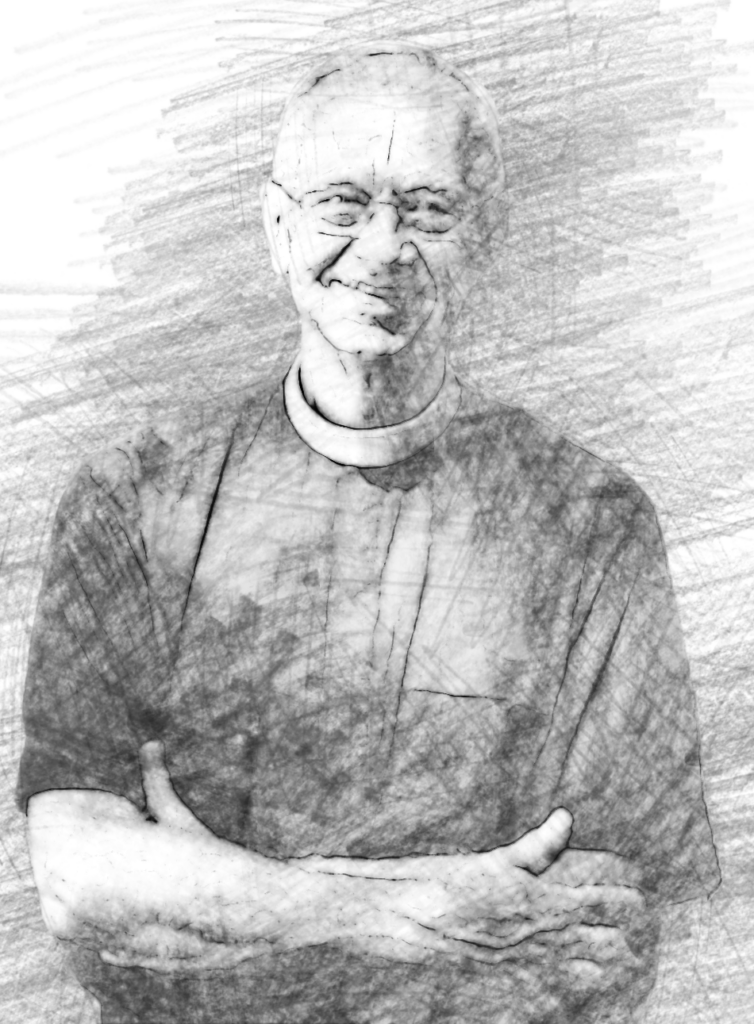 Dwain's Louisville (09/20/2022)
You know those "______'s Louisville" banners on the sides of buildings throughout the city? Ali and Jennifer Lawrence and Diane Sawyer and more "notable" names. We think the blank should be for all of us. (Who do you think Louisville Magazine should interview about our city? You can tell us here.)
Here are the Rev. Dwain Lee's answers. Published Tuesday, Sept. 20, 2022.
Since March 2020, what's something Louisville has lost?
"Breonna Taylor. David McAtee. Tyler Gerth. Travis Nagdy. And too many others. Louisville has lost many people and things because of the pandemic, but I think it's also so very important to remember those lost to injustice and violence, both individual and systemic. Their names, and their lives, matter, and we need to continue to work to improve justice in this city in their memory."
Since March 2020, what's something Louisville has gained?
"I'm still working on the answer to that question myself."
Since March 2020, what's something you've gained?
"A renewed appreciation for what's really important in life — what our priorities should be and just how fragile so many of our personal, social and institutional connections are without intentional nurture."
What should people visit in your neighborhood?
"My neighborhood is amazing, a perfect blend of new and long-time residents, and homes, businesses and workplaces. My husband and I chose this neighborhood — Germantown, right along its borders with Schnitzelburg and Shelby Park — because of its diverse, mixed-use nature and its walkability. We're literally minutes away from the Post, Four Pegs, Toasty's Tavern, Logan Street Market, Bean, Monnik Beer Co., Check's Cafe, Atrium Brewing — with more popping up practically every month."
Here's a magic wand. Wave it and you can change one thing in your neighborhood. What do you change?
"We have a number of really nice murals in the neighborhood, most notably an amazing one that emerged over time on the front wall of the Ackerman Millworks & Supply Co. building, being painted by a great artist, Stephen Paulovich. Unfortunately, this mural and others have been repeatedly vandalized by a person, or people, throwing paint on them. If I had a magic wand, I'd make them recognize how boneheaded their actions are. I know, if I had a magic wand, I should wave it and bring about world peace or something, and I'd eventually get around to that, but I'd start with the mural vandals."
What Louisville dish have you eaten more than any other?
"The one thing I've probably gone back for more times than any other is the barbecue ribs lunch combo at Shirley Mae's Cafe, at the corner of Clay and Lampton streets. If you haven't had Shirley Mae's ribs, you haven't had ribs."
Where are you a regular?
"Bean Coffee."
What closed Louisville business do you miss most?
"Eiderdown had excellent food just a block from our house."
In one sentence, how do you spend the majority of your weekdays?
"I'm the pastor and head of staff at Springdale Presbyterian Church on Brownsboro Road."
Besides whatever it is you're currently doing: What's the best job you've ever had?
"Before I entered the ministry, I was an architect in private practice in Columbus, Ohio, where I operated my own firm for 20 years."
Favorite Louisville building?
"Kaden Tower, on Dutchmans Lane, because it is so boldly, unapologetically, blessedly ugly. Designed by William Wesley Peters — who was the head apprentice working on Frank Lloyd Wright's masterpiece Fallingwater and who went on to head Wright's school of architecture after Wright's death — the building is an example of what can go wrong when slavishly sticking with particular stylistic elements and ideas, and not growing beyond them for different times and contexts. People from far and wide, people who may have no other knowledge of Louisville beyond just passing through on the highway, marvel and take pictures of Kaden Tower, showing it to their friends, who wonder: What the heck were they thinking?!?! Having said all that: At night, when the lights inside the building filter through the concrete tracery of the curtain wall, it is delicately pretty in its own way. But enjoy it before daybreak, when it loses all of its charm."
Most memorable show/concert you've been to in Louisville?
"Can't pick a single favorite, but musically, my husband and I are huge fans of any performance of the Louisville Orchestra, the NouLou Chamber Players and the Louisville Civic Orchestra. Theatrically, the most memorable and powerful performance we've seen was Pandora Productions' presentation of Cabaret."
What's a Louisville law/ordinance/rule/etc. that needs to change?
"Micro: 1.) a quicker and more efficient way to deal with abandoned vehicles; and 2.) a composting program and separate trash collection for compostable waste, in addition to our current recycling and standard trash pickup. Macro: restructuring policing and other governmental agencies in ways that end the systemic racism embedded within them."
Something unexpected you love in Louisville?
"When I was first contacted about a position here, I didn't know anything about Louisville, and I'm ashamed to admit I initially had some negative stereotypes running through my mind. Here I was, an out gay minister, soon to be married to an Asian foreign national in a same-sex marriage, considering moving to… Kentucky? You have to admit, it sounded a bit iffy. As soon as I visited the city and its amazing people and got to know it better, I came to love it for many reasons. But before anything else, I loved that Louisville is one of only two Southern cities to score a perfect rating on the Human Rights Campaign's Municipal Equality Index regarding LGBTQ+ acceptance."
One thing Louisville is missing?
"World-class, efficient, clean, well-thought-out public transit. My neighborhood is walkable, but having better public transit connecting us with other neighborhoods in the city would be fantastic. So would having easy rail connections to other major cities. Also, Louisville has got to come up with a more ethical and compassionate way to provide for its homeless population; the current situation is entirely unacceptable and one of our great shames as a city."
Favorite Louisville smell?
"I think I mentioned Shirley Mae's barbecue ribs earlier."
In one word, what's your biggest hope for Louisville?
"That we will live into our true potential for being a city that can show other cities how to do it right."
In one word, what's your biggest fear for Louisville?
"That we won't."
Earliest childhood memory?
"Running around my great-grandmother's yard, catching lightning bugs in a mayonnaise jar on a summer evening, just before roasting hot dogs over a fire. As earliest memories go, that's a pretty good one."
Your drink?
"Any good bourbon, neat."
Go-to karaoke song?
"Given my singing voice, the world should be very grateful that I've never been drunk enough to do karaoke."
Who would you shadow for a day?
"Pete Buttigieg, who's currently serving as U.S. secretary of transportation. Not so much for what he does in a typical workday but more because I find him to be a fascinating, genuine and incredibly intelligent and driven person, and I figure, over the course of the day, I'd love to pick his brain."
Book you've given away the most?
"Letters to a Young Doubter, by William Sloane Coffin, and God and the Gay Christian, by Matthew Vines."
What three people (living or dead) would be on the guest list to your ideal dinner party?
"Jesus, because — well, Jesus. Abraham Lincoln, because I want to finally get the lowdown on the whole Joshua Speed relationship in Louisville. And the great historical violin maker Nicola Amati. Because my husband would be part of the dinner party as well, and he's also a violin maker, I'd invite Nicolo so the two of them could talk shop."
If you could write it yourself, what would your headstone say?
"The best and the worst, the blessed and the cursed."
First thing on your bucket list?
"A trip to Taiwan to see its beauty, enjoy its culture and meet my husband's extended family."
Something nobody knows about you?
"Long ago, I was a Civil War reenactor. My group and I appeared in the film Glory, and during shooting I briefly got to pass a Frisbee with Matthew Broderick and Cary Elwes."
Most noticeable quirk?
"I have a crooked smile that, in all honesty, I'm kind of self-conscious about, and that I hate to see in photos or videos of me. It bothers me mostly because it reminds me of Dick Cheney's crooked smile, and I think it makes me look sinister. I try to tell myself that I'm a much nicer person than Cheney, and I'm actually reclaiming the acceptable quirkiness of having a crooked smile for all the other nice crooked-smilers out there."