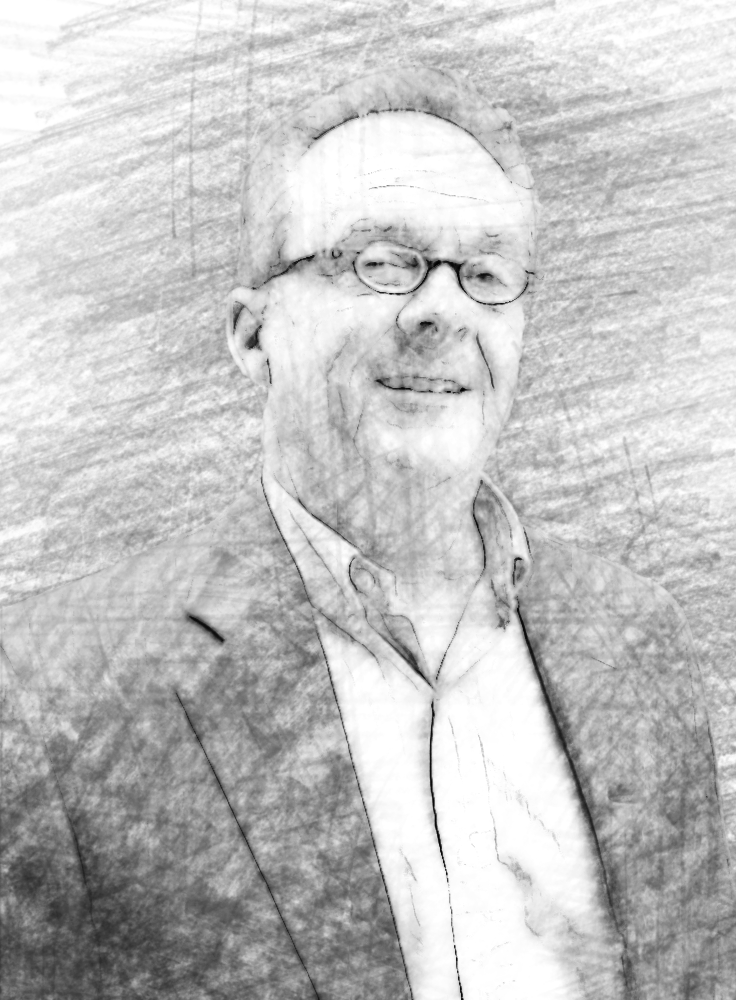 Gray's Louisville (10/10/2022)
You know those "______'s Louisville" banners on the sides of buildings throughout the city? Ali and Jennifer Lawrence and Diane Sawyer and more "notable" names. We think the blank should be for all of us. (Who do you think Louisville Magazine should interview about our city? You can tell us here.)
Here are Gray Smith's answers. Published Monday, Oct. 10, 2022.
How has your relationship with Louisville changed since March 2020?
"I am much more aware of our divisions and our challenges as a city and am much more interested in ways to contribute to Louisville's betterment."
Since March 2020, what's something you've gained?
"An empowered 'if not now, when?' mindset."
Outside your house, where in Louisville do you feel most at home?
"The Louisville Public Media office, where I am vice president of corporate sponsorship. At LPM, the ambitions are big and the spirit is high. Filled with good, passionate people and, at the WFPK performance studio, some of my favorite musical moments."
Who or what should be on a future cover of Louisville Magazine?
"Because we're talking future: our new light-rail system connecting north, south, east and west."
What should people visit in your neighborhood?
"The tree-lined sidewalks, parks and Cave Hill Cemetery. With your phone off."
Here's a magic wand. Wave it and you can change one thing in your neighborhood. What do you change?
"My neighborhood was built before commercial electricity, and the homes and porches were designed for socialization, as that was the only entertainment back then. More of that neighborliness would be nice."
Louisville dish you've eaten more than any other?
"I do love the pork chop at Jack Fry's."
Where are you a regular?
"Two faves: tiki at Safier, near the LPM office on South Fourth, and the Dippity bento box at Dragon King's Daughter."
Favorite Louisville street?
"The Scenic Loop at Cherokee Park because it really is."
Closed Louisville business you miss most?
"The Village 8. I was an usher there in high school, hundreds of films ago."
Most memorable show/concert you've been to in Louisville?
"Man, that's a lot of shows. I would have to go with Steve Winwood and band in the performance studio at LPM. I was about ten feet away and helped him carry guitars afterward."
Favorite Louisville smell?
"Early springtime."
Something from Louisville's past you wish people today could experience?
"The magical day of Muhammad Ali's funeral, when it felt for a moment that we were the epicenter of unity."
In one word, what's your biggest hope for Louisville?
"Unity."
In one word, what's your biggest fear for Louisville?
"Stagnation."
Besides whatever it is you're currently doing: What's the best job you've ever had?
"Playing records — for money! — as a DJ at WKQQ in Lexington while in school at UK."
Go-to karaoke song?
"'You Can't Always Get What You Want.'"
What would you name a Derby horse?
"Sugarboy. It's what my then-four-year-old son named his stick horse in pre-school."
Priceless possession?
"My mother's drawings and paintings."
Book you've given away most?
"Ray Bradbury's Dandelion Wine. Word sculpture so exquisite you can smell and taste the story."
What do you want to plug?
"The board game I co-designed, called CITIZEN. My hopes for CITIZEN are lofty: to serve as a nonpartisan, fact-based platform that brings people together for civil conversation and discovery, and to demonstrate in an engaging and entertaining way the real workings of our legislative branch, while highlighting the power of a single citizen to make a difference. We knew a game with a serious theme had better be damn good to play, and it is. Beyond gamers, teachers can use it, and parents can play it with their kids."