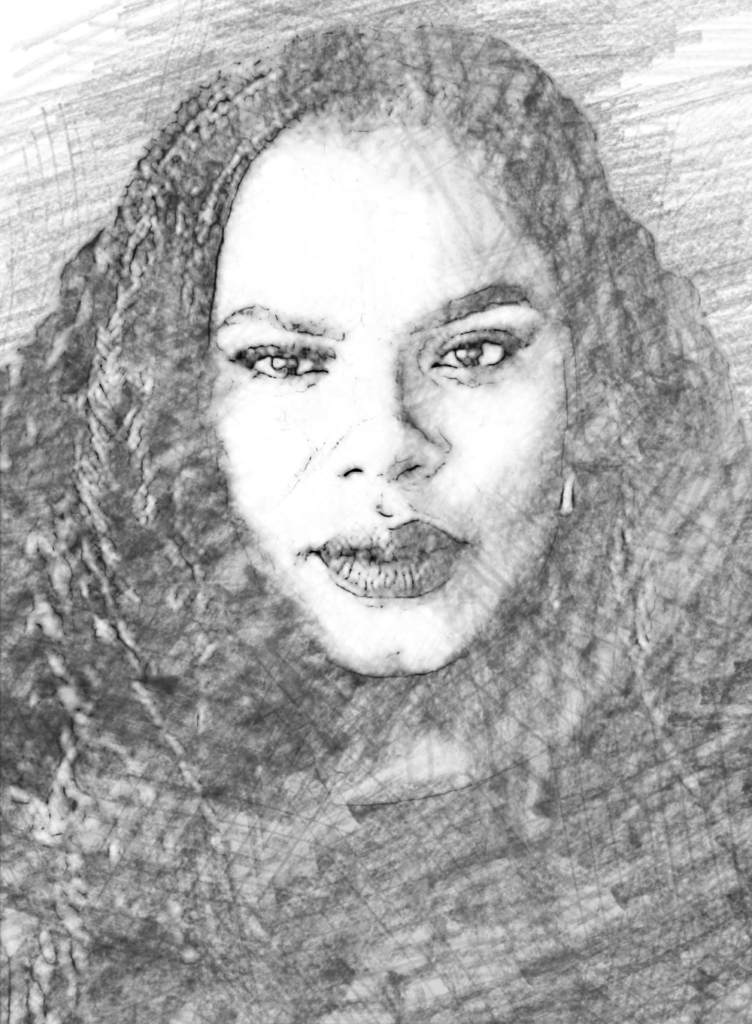 Hannah's Louisville (09/15/2022)
You know those "______'s Louisville" banners on the sides of buildings throughout the city? Ali and Jennifer Lawrence and Diane Sawyer and more "notable" names. We think the blank should be for all of us. (Who do you think Louisville Magazine should interview about our city? You can tell us here.)
Here are Hannah Drake's answers. Published Thursday, Sept. 15, 2022.
Since March 2020, what's something you've lost?
"A sense of peace in a city that has embraced and loved me. Any time you can enter the home of an innocent woman and kill her, it lets me know that I am not safe. My sense of peace is gone."
Since March 2020, what's something you've gained?
"An understanding of the history of Louisville, which is one of the reasons Louisville is how it is today. We are reaping the fruit from the seeds that were planted many, many years ago."
Since March 2020, what's something Louisville has lost?
"Louisville has lost a lot. Something broke in this city, and it will take years, decades, to repair — if Louisville wants to do the work. We are a city divided. To say we are a compassionate city is a farce. How can we be compassionate when people are sleeping on the streets? How can we be compassionate when we remove them so they won't be an 'eyesore'? How can we be compassionate when this city teargassed innocent people (during the racial-justice protests)? How can we be compassionate when we don't face the systemic racism that has impacted the lives of Black people in Louisville? How can we have the audacity to believe that we are compassionate? That's gone. The veil has been lifted. Louisville needs to face itself, and that is how we can become compassionate."
Since March 2020, what's something Louisville has gained?
"My initial answer was: nothing. However, I do think, on some level, more people are beginning to understand the impacts of systemic racism and how it plays out in every single system in Louisville. Many people have started to understand the injustice at the core of our 'justice' system. There is hope for Louisville, but we must do the work, and that is the part that scares me. Can we really do the work, even when it doesn't feel good? Because it's not going to feel good.
"With the (Un)Known Project, we have discovered so many names of Black people who were enslaved in Kentucky. When I see slave rolls, I just see a gender and an age. Name unknown. That doesn't feel good to me that people in Louisville didn't even think Black people were worthy of having their names recorded. I have cried so many tears doing this project. The hurt is unimaginable. If Louisville really wants to change, we must understand it is not always going to feel good. Do it anyway."
Where in town do you always take visitors?
"Because I helped create the (Un)Known Project, I take people along the river to see it. I ask them to look across the Ohio and imagine being that close to freedom. Some people don't realize the Ohio River was the dividing line here between slavery and freedom."
What should people visit in your neighborhood?
"I am a stone's throw from Churchill Downs. Tell them to visit the backside at the track — to see the people, talk to the people. Tell them to walk the neighborhood and see this oasis of wealth, then look at what surrounds it. How does so much wealth surround so much heartache?"
What should be Louisville's theme song?
"Anything but 'My Old Kentucky Home.'"
What closed Louisville business do you miss most?
"I cannot remember the name of this place, but it was downtown and sold japchae. I would go there at least three times a week, and one day it was just gone."
Louisville dish you've eaten more than any other?
"People may laugh at me, but I LOVE Hot Browns. Delicious!"
Favorite Louisville building?
"Not really a building, but: In the St. James Court area there is a house that is pink that looks like a castle."
Favorite Louisville street?
"Southern Parkway. Beautiful homes and trees. Gorgeous during the fall."
Most memorable show/concert you've been to in Louisville?
"I went to the Kentucky Center and saw the Alvin Ailey dancers. The grace, the beauty, the strength, the Blackness. It was as if they were kings and queens in flight."
What's a Louisville law/ordinance/rule/etc. that needs to change?
"The way the city just removes homeless camps. For people living there, this is their home, their corner, their space. We just remove it. And what makes me really angry is when we remove them for Derby. We do not see them as humans. Shame on us!"
Something unexpected you love in Louisville?
"The Big Four Bridge is my favorite place in this city."
One thing Louisville is missing?
"An exciting and thriving downtown. Downtown is dead, and we will not win by revitalizing it in a way that is whitewashed and cookie-cutter. How do we create a Louisville that people want to visit? For downtown to change, first, leadership must acknowledge and be honest about how downtown became what it is. Are we creating a downtown for white people or for everyone?"
Favorite Louisville smell?
"Warm Derby Pie."
What does Louisville have that it should be known for but isn't?
"Great soil to grow weed. Legalize it already!"
Something from Louisville's past you wish people today could experience?
"I wish many people — but not Black people — could go back and experience the policies enacted in the past, to see how they impact Louisville today. Maybe they would have a better understanding now."
Fill in the blank: "_______'s Louisville" should be the next banner on the side of a building.
"Elmer Lucille. Elmer Lucille Allen, the first Black engineer at Brown-Forman, is also an artist par excellence."
In one word, what's your biggest hope for Louisville?
"Growth."
In one word, what's your biggest fear for Louisville?
"Complacency."
Besides whatever it is you're currently doing: What's the best job you've ever had?
"Working at Bates Memorial church. I LOVED it because I worked with Black people and never had to deal with microaggressions, racism or any of that stuff. We were ALL Black. We all understood each other. I belonged."
Priceless possession?
"My daughter made me a Christmas ornament out of a piece of wood when she was seven and wrote on it, 'As long as you have this, we will be best friends.' She is in her mid-20s now. She is my bestie!"
Most noticeable quirk?
"I am ALWAYS messing with my hair. Also, I do not care what city I am in, I HAVE to try the pizza. It is my favorite food. No matter where I travel, I will find the pizza."
Your drink?
"Non-alcoholic: I have to say Louisville has the BEST tap water. Alcoholic: Old Fashioned."
Go-to karaoke song?
"'I Will Survive.'"
Who would you shadow for a day?
"Someone with different views and ways of thinking. I would love to sit in when someone like Robert Stivers, the Republican president of the Kentucky Senate, has a meeting. I am so curious how we get to some of these laws. I would love to know the thinking that landed us in many of these situations."
Favorite thing hanging on the walls at home?
"Colin Kaepernick shared my poem 'All You Had to Do Was Play the Game Boy' on social media, and I printed it and framed it. A year before he shared it, I made a post that said, 'One day, Colin Kaepernick will see this poem.' And it was so."
Book you've given away the most?
"Fragile Destiny, a novel I wrote loosely based on my life. I think that book helps set people free."
Secret talent?
"I am an amazing cook. Whenever I go out to eat, I always say, 'I can make this at home.'"
What three people (living or dead) would be on the guest list to your ideal dinner party?
"Maya Angelou, Fannie Lou Hamer, Ida B. Wells."
If you could write it yourself, what would your headstone say?
"She gave you her best. She planted the seeds. Now you water them and make them grow."
First thing on your bucket list?
"Visiting London."
Something nobody knows about you?
"I have six tattoos."
What makes somebody a Louisvillian?
"Love for this city, putting goodness in this city, working to make Louisville a better place."