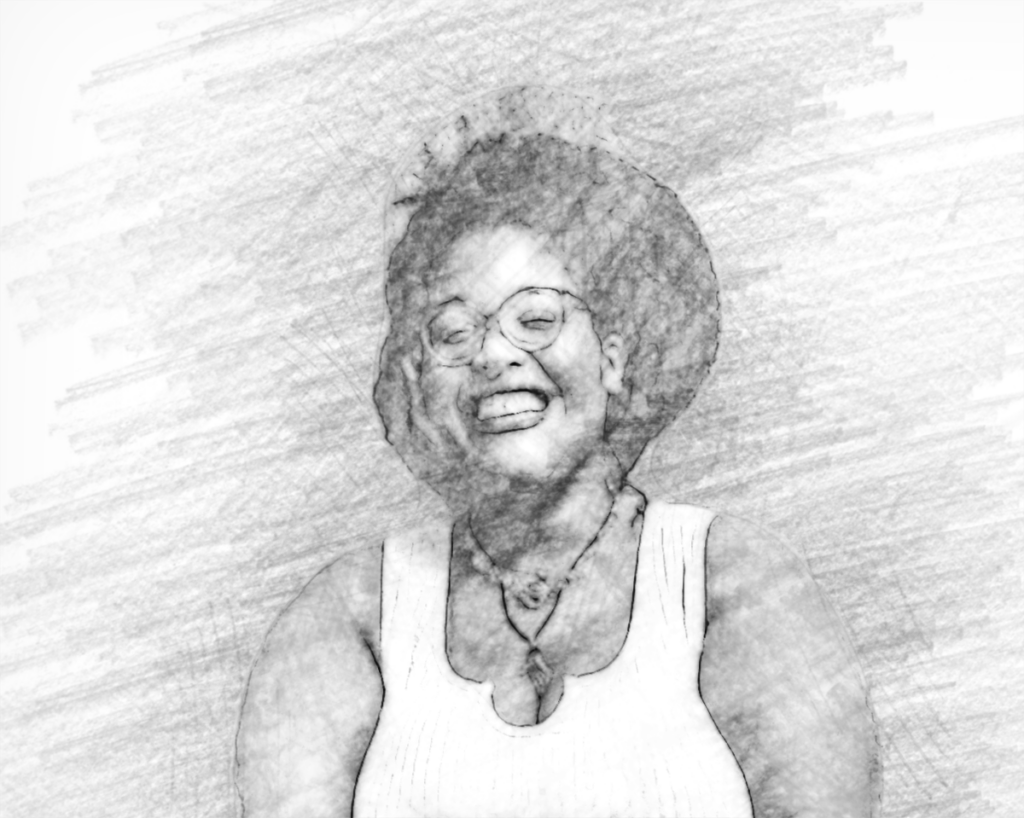 Iyabo-Mesa's Louisville (06/09/2022)
You know those "______'s Louisville" banners on the sides of buildings throughout the city? Ali and Jennifer Lawrence and Diane Sawyer and more "notable" names. We think the blank should be for all of us. (Who do you think Louisville Magazine should interview about our city? You can tell us here.)
Here are Iyabo-Mesa Serikali's answers. Published Thursday, June 9, 2022.
In one word, what's your biggest fear for Louisville?
"Gentrification."
In one word, what's your biggest hope for Louisville?
"Equity."
Since March 2020, what's something Louisville has lost?
"Breanna Taylor."
Since March 2020, what's something Louisville has gained?
"More street art."
What Louisvillian has died who you really miss?
"Bud Dorsey was an amazing Louisville photographer and served his community by representing them through his lens. I admire his legacy, and it inspires me to never stop creating."
What should people visit in your neighborhood?
"Central Park in the fall or during sunset is one of the most peaceful spots in the city."
Here's a magic wand. Wave it and you can change one thing in your neighborhood. What do you change?
"More funding to community centers, community housing and fixing up roads and abandoned houses that could shelter so many displaced families."
Where are you a regular?
"At Panchitos, I order tamales and guacamole. And I never skip dessert with their ice cream!"
What closed Louisville business do you miss most?
"North End Cafe was my weekend brunch spot."
Favorite Louisville street?
"Bardstown, Baxter and Barret — that whole area raised me."
Where do you always take visitors?
"Ramsi's Cafe and the art gallery inside 21c."
Most memorable show/concert you've been to in Louisville?
"ODESZA in 2018 at Iroquois Amphitheater is the best concert I have ever attended. The light show was amazing, not to mention the live drumline and surprise confetti canons. I've been to probably more than 100 concerts. I live for live music."
In one sentence, how do you spend your weekdays?
"I spend a lot of my time figuring out how to make it as a young Black creator, and how to find funding to keep going and keep sharing my story with the world."
Besides whatever it is you're currently doing, what's the best job you've ever had?
"Working at the campus library at NKU. I love how the library is the center of the campus, where people come to study, hold meetings, rest, eat and gain information. It truly was and still is a great place to be."
Most noticeable quirk?
"My concentration face is rubbing my tongue on my bottom lip. I can't help it."
Go-to karaoke song?
"'Jaded,' by Drake."
Which possession of yours do you consider priceless?
"My CD collection and my external hard drive with my entire portfolio on it."
Favorite thing hanging on the walls at home?
"My huge mirrors."
What book have you given away the most?
"The Coldest Winter Ever by Sister Soulja is a 'hood classic for any age."
What TV or movie character is most like you?
"Khadijah James from Living Single. She was a journalist who supported Black art, music and culture and started her own magazine from the ground up. She was a success story that I still draw inspiration from. I graduated with a journalism degree and would love to start a magazine focused on Black culture. #bringbackjetmagazine"
Your secret talent?
"I don't keep my talents a secret, but not many people know that I make, roll and tattoo with my own henna paste. I've been learning the art of henna/mehndi for seven years."
First thing on your bucket list?
"Announce the nominees on live television during a music awards show."
Something unexpected you love in Louisville?
"The Big Four Bridge is a peaceful place from time to time."
One thing Louisville is missing?
"More diversity."
Favorite Louisville smell?
"West End barbecues in the summer."